Google Local Services is a pay per lead platform that doesn't rely on keywords like paid search ads. Users provide their business category and select the services they'd like to show for, and Google can display their listing in the Local Service Ads pack at the top of the page in their designated service area.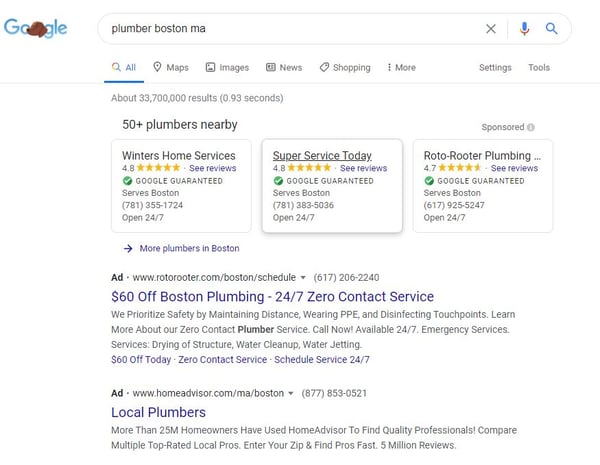 These ads appear at the very top of the page, above both paid search ads and the organic search listings. They are primarily marketed towards home service companies who get verified and marked with a "Google Guaranteed" badge. Recently, Google has started expanding Local Service Ads to other business categories using the distinction between a "Google Guaranteed" business versus a "Google Screened" business.
What Is The Difference Between Google Guaranteed and Google Screened?
Home service companies must attain the "Google Guaranteed" badge by passing a third-party background check, license verifications, and proof of insurance. This distinction comes with a service satisfaction guarantee backed by Google. If a customer is dissatisfied with a Google Guaranteed provider, they can go to Google and obtain up to $2,000 in refunds over their lifetime.
A "Google Screened" badge is given to financial planners, lawyers, or real estate business categories. They still go through the screening process and independent background check, but their services are not back by the Google satisfaction guarantee. Both of these businesses can use Local Service Ads (LSA's) to generate more leads in their local market.
How Do Local Service Ads Work?
Once a business passes the required background, insurance, and license checks they can begin to get leads through the LSA Profile. When creating the profile, users are prompted to choose a business category that will determine what type of jobs they can show for. A plumber will be shown various plumbing job types in a menu, which they can select or reject to display. This gives businesses control over what comes through the profile.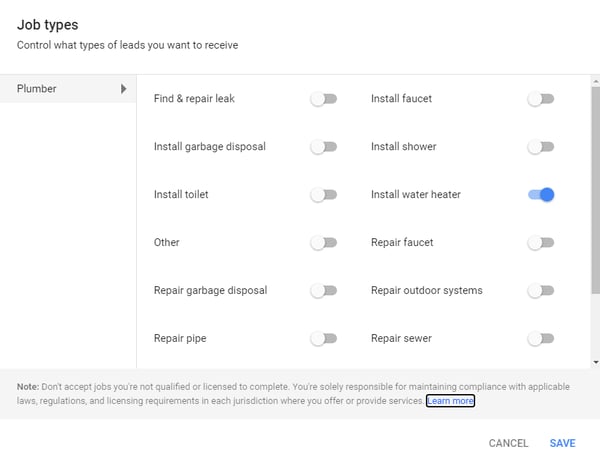 Along with the services, users must also set their geolocation preferences. This will ensure ads only display in the zip codes and towns they want. LSA's operate on a pay per lead model, so charges only occur when a customer calls or sends a message through the platform. The price of leads will fluctuate depending on your job type, but the method of contact doesn't change the price. Local Service Ads are charged to a weekly budget attached to the profile, so it's important to set a high enough limit that you can show each day you're open. The daily spend will vary depending on the amount of traffic in your market but will not exceed the maximum weekly budget in a 7-day period.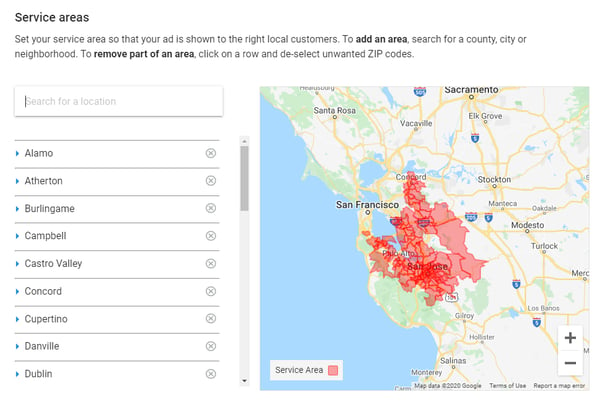 If you have a Google My Business profile, it can be linked to the LSA profile to display reviews to customers. These are a huge trust builder for potential customers, so if your Google My Business has a lot of 5-Star reviews, you want to make sure it's linked to the LSA.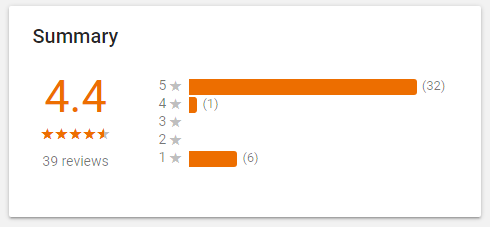 When a customer searches for service in an area you've indicated as part of your service area, your LSA Ad has the opportunity to show up in the LSA Pack. If your ad isn't in the top three shown, it will still be in a list of Google Guaranteed businesses which customers can access. But how do you increase your chances of showing up in the coveted top three spots?
How Does Google Decide Which Profiles Show In the Top three spots?
When a customer searches for a home service provider in their area, there are usually more than three companies that are Google Guaranteed. How does Google decide which profiles will display in the "LSA pack"?
Budget- Setting a budget that can keep your ads on will ensure you show more often. No budget means no ads will show.
Location- The closer you are to the geo-location of the user, the better chance of showing up. These are called "local" ads, so being close by is a factor.
Reviews- This is probably the most important factor after having a substantial budget. LSA's pull reviews from the Google My Business profile associated with the profile, and the more reviews you have the better your profile rank will be. Even if you don't have a Google My Business, customers can leave reviews right in the LSA account, too. It's critical to collect as many 5-Star reviews as possible.
**NEW** Bidding- Google has recently announced that bidding is coming to Local Service Ads. This means companies can set a maximum lead cost for services in order to display more often in the LSA pack at the top of the page.
Frequently asked questions: Lsa's versus Google ads
Can a company run both LSA's and Google Ads At The Same Time?
Yes! A company can run traditional search ads and have an active LSA profile at the same time. Both results can show up in the same search query, too.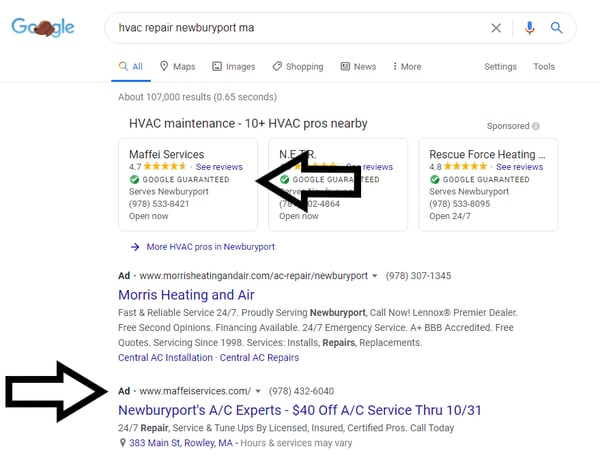 Do LSa's allow for keyword targeting?
Unfortunately, no. Google Local Service Ads break down targeting by job type, which is determined by the business category. If you're an HVAC contractor, you'll get a list of services you want choose to show for such as AC repair, AC replacement, heating repair, etc. You decide which services you want to advertise for and Google will only display your profile for those terms. The benefits of this system is that it's very simple for business owners to tailor their profile without all the bells and whistles of Google Search Ads which involve more finesse.
Should I Still Use Google Search Ads If I'm Using Local Service Ads For The Same Services?
Absolutely. There is no replacement for the lead volume that can be generated by Google Ads. Google LSA's are a great supplement to your Google Ads strategy, but long term we've never seen them able to generate the volume most companies need. And until bidding becomes widely available, there's no way to give yourself an edge over the competition besides collecting reviews and keeping the budget open. Plus, the customization of Google Search Ads cannot be beaten. With Local Service Ads, there is just a box with information in it. With Google Ads, there is total customization for your messaging.