While LinkedIn ads aren't for every business, they're a useful marketing channel for getting in front of a professional audience. LinkedIn advertising is especially powerful for B2B marketers who want to increase brand awareness or generate leads. When you use LinkedIn, you're getting in front of a more professional subset of the population who are more likely to be decision-makers for a business.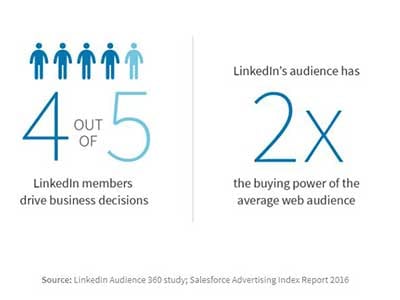 In this article, we'll cover the basics of LinkedIn advertising including:
Ad types & formats
Targeting options
Performance tracking
Ad Types and Formats
In order to start using LinkedIn ads, you'll need a company profile to distribute content. Once that profile is created, it's about choosing the right type of ad for your marketing goals. Like Google and Facebook, LinkedIn has a few different ad types to satisfy a variety of needs. Their ads can drive brand awareness, website visits, engagement, lead generation, conversions, or job applications. LinkedIn recommends testing a few options and comparing performance to find the best ad format for your goals.
Sponsored Content
Sponsored content operates a lot like boosted posts on Facebook. These appear natively within the feed of LinkedIn members and display like a post from the company page. Running this type of ad is very simple. In the campaign manager, marketers write the copy for the ad, insert a destination URL, and pair the ad with an image or video. In order to drive lead generation, the destination URL can be replaced with a lead form. If a user interacts with the sponsored ad, a form will appear for them to fill out instead of taking them to a new page.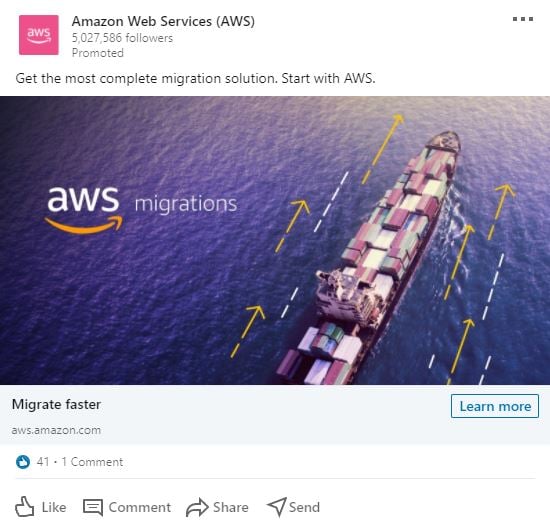 Sponsored Messaging
A sponsored message will reach a person directly in their LinkedIn mailbox. This allows advertisers to get right into the inbox of a user and present them with an opportunity to take action. LinkedIn says that a sponsored message with a strong CTA will drive stronger engagement than traditional email marketing.
Text Ads
Text ads are more like pay-per-click ads you'd be running on Google. They use a cost per click (CPC) or cost per impression (CPM) model which you can decide at the outset of the campaign build. These ads appear as a short block of text with the company logo on the sidebar of the newsfeed of users. They are static on the sidebar and do not appear in the newsfeed.
Dynamic Ads
Dynamic ads are a versatile ad format from LinkedIn. They'll automatically populate personal details from the targeted prospect based on their profile information- name, current company, and even their profile photo. Dynamic ads can be used for recruiting, content promotion, or website visits. Dynamic ads allow advertisers to personalize ads at scale and increase engagement.
Audience & Targeting Options
The targeting options in LinkedIn are pretty tuned in compared to other search networks. Members of LinkedIn voluntarily share information about their job title, achievements, and skills right in their profile. These are all categories you can use to create an audience that best serves your goals. Below we'll run through the audience targeting options currently available to LinkedIn advertisers.
Matched Audiences
A matched audience is created using the user data of people who have already interacted with your site or previous posts. Just like Google and Facebook, LinkedIn has its own tracking code called the "Insights Tag." This tag allows you to get back in front of those same users on LinkedIn or build lookalike audiences using that data.
Demographic Information
Like any good advertising network, LinkedIn allows you to target users based on location. This is the basic need of any advertiser looking to get in front of more specific users near their physical location. But LinkedIn also brings in some really unique demographic information that makes it a powerful tool for B2B advertisers.
Company: You can target users based on their affiliation with a company. If your business wants to target specific verticals, you can place your ads in front of users who are associated with companies in that vertical. This can be followers of certain industries or employees of a specific company depending on their size. The audience needs to be at least 500 members, so you can't target all the employees of a small business.
Demographics: Like Google, you can target people based on their age and gender which is inferred from their profile. However, this cannot be used in equal opportunity advertising. You cannot use demographics to exclude candidates for ads relating to employment, housing, education, or credit opportunities. This is standard practice across the board for paid advertising.
Education: LinkedIn works with professionals who typically list their education on their public profile. You can use this information to target audiences with a certain degree, field of study, or university they attended. If you want to target recent graduates from a certain institution, this would be a great layer to add to your targeting.
Job Experience
Years of Experience: If you're using LinkedIn for recruiting, the seniority and experience of candidates will be important to narrow down your audience. If you're looking for senior-level talent, adding years of experience or position level to your qualifiers will help narrow your audience. However, be aware that LinkedIn does not include gaps in experience or overlapping positions in their calculations for years of experience.
Skills: Skills are the relevant keywords listed in a profile that relate to candidate expertise in a certain area. Skill targeting can get you in front of individuals who can really do the position you're hiring for. If you're hiring for a content writer, you'll want to target members who list skills like "copy-editing" in their profile.
Interests
Interest categories are determined by the content that users interact with on LinkedIn and attributes of their profile. These are most effective for awareness and consideration campaign goals. With this type of audience targeting, you can define your parameters using group affiliation or member traits. Often professionals in a field will join groups related to their field in order to discuss trends, ask questions, and learn new information as it comes out. If you're looking for a team member to fill a financial role, you could target users who are part of finance and business groups on LinkedIn.
Tracking & Measuring Results
LinkedIn offers robust tracking and reporting dashboards for their marketers. You can track the key metrics that matter to your performance goals on a campaign by campaign basis. Conversion tracking will show you leads generated or purchases through an ad, while performance metrics like clicks, impressions, and click-through-rate will appear in the Campaign Manager center. No matter what your goals are, LinkedIn makes it easy to track performance and make adjustments.
Start Using LinkedIn Advertising Today
If you've been hesitant to try LinkedIn ads, now might be the perfect time to dip your toes in the water. It's a strong market for businesses that want to connect with decisions makers or for recruiting opportunities. The expansive targeting allows for control over who sees the ads and the in-depth reporting dashboard supports performance tracking efforts.