In a sea of advertisements, you need to make sure yours really pop. Bland, generic copy is a surefire way to find yourself blending in with the wallpaper. You need, interesting, engaging copy to stand out in the crowd. Something that puts you at the top of a prospect's mind and keeps you there. Luckily, we at AdMachines have developed a time-tested effective ad copy formula to double your response rates.
And the first step to achieving that perfect ad is to make your prospects a direct offer. Offers grab people's attention right away and drive them to jump into the sales funnel. But what makes a good offer?" you may ask.

Specific Strategy
Before you start even creating the ad, you need to ask yourself what you're hoping to accomplish with it. What's your goal? Do you want to generate more sales? Start building a long lasting relationship with your leads? Or do you just want to get your foot in the door? Determine where you're going before you start drafting anything.
Do The Opposite of What Your Competitors Are Doing
It's very easy to copy a competitor. But every company is unique and what they're doing probably isn't going to make as much sense for your business. If you look unique, you'll get a much better response. Don't be afraid to stand out.
Believable Offers
Have you ever heard the old cliche "It's too good to be true?" Well, that's a cliche for a reason. People tend to have pretty good radars for when an offer is unrealistic. Claims like "Free Labor!" and "50% Off!" are great deals that anyone would love to receive. But they're not realistic. Make sure your offers are reasonable and believable.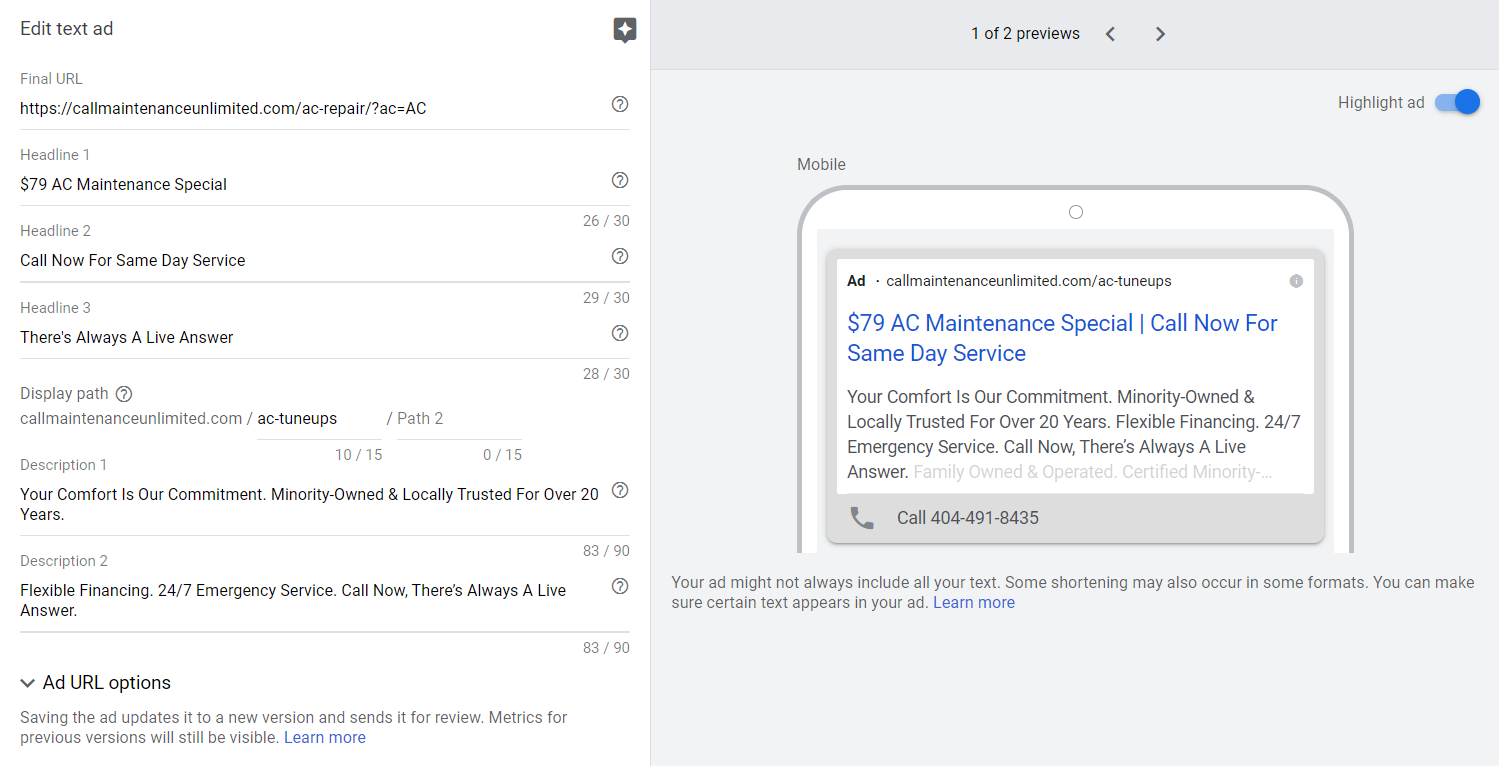 Compelling, Creative Offers
Don't make generic offers. Anyone can offer $20 off on service, that sort of ad isn't turning any heads. Be realistic, but bold. What catches your eye more: $20 off or $50 off? Probably the second one.
Proven History
If it isn't broken, don't fix it. You can and should look at your track record to see what works and what doesn't. Obviously this is less viable for newer companies, but businesses with some experience under their belt absolutely should be leveraging their past efforts for future successes.

No Copycats
Being original is hard. But no one ever remembers the copycats. Aping a competitor's ad doesn't guarantee you success. In fact, it could spell the opposite for your business. Your competition's offer may seem like a really good idea, but without full knowledge of their backend, you run the risk of offering a deal that you can't sustainably provide your customers.
Actionable
It's easy to get this confused with a Call To Action. That's another part of our ad copy formula we'll be getting to a bit later. But in a way it's tied into the offer. The offer has to stir a lead to do something. For example; if you say "Free Estimate," a lead may think that they can get a price over the phone. What you want to have in your ad is "Free On Site Estimate." This not only gets your lead on the phone, but it gets your foot in the door with a chance to send a representative to the home itself.